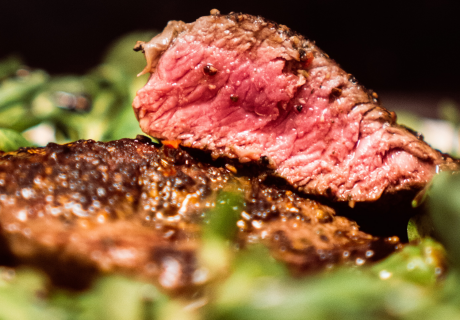 Garlic Herb Grilled T-Bone Steak
A tender and juicy T-Bone made even more memorable with garlic herb butter.
Recipe
Ingredients
4 tbsp butter
2 tsp finely chopped fresh thyme
2 tsp garlic cloves, freshly minced
1/2 tsp lemon zest
Salt and pepper to season
Method
Melt butter in a small saucepan over medium-high heat. When the foaming reduces, stir in thyme, garlic, and lemon zest. Remove from heat and set aside.
Season the steaks with salt and pepper and allow to rest at room temperature for half an hour.
Preheat the grill on medium-high for 5 minutes.
For a medium steak, place the steaks on the grill for 6-7 minutes, then flip and cook for a further 6-7 minutes. Reduce the time to 4-5 minutes per side for medium-rare.
Transfer the steaks to a cutting board and spoon over the butter sauce. Allow to rest for 10 minutes.
Carve and serve.